We work with a lot of small to mid size businesses who have razor thin margins and budgets. For that reason digital marketing isn't something they can just throw money at. A marketing spend really has to prove itself out with ROI for before a new business will invest heavily. This just makes sense to anyone who is cautious… but a lot of larger entities have more wiggle room to experiment with things that may not work right away. A small business doesn't have that luxury, any drain on their budget has to prove its value quickly.
The Foundation of Digital Marketing Strategy
Over the years, we have found that there are certain aspects to any digital marketing campaign that are necessary for success. We call them "pillars" because they are the foundation of your digital marketing strategy. They can also be applied to more than just small business'. If you're a novelist for example, a lot of these same basic components are necessary for success. If you are a t-shirt vendor, these same pillars are necessary for success in the digital economy. With this in mind we created a list of what we view as the 5 pillars for marketing that works.
The 5 Digital Marketing Pillars for Small Business (or any business)
5. Social Media Accounts & Pages
The single most important thing you can have as a business these days is a social media presence. This is basically the internet equivalent to "top of funnel" in your digital marketing strategy. If it's being done right, your presence on Twitter, Facebook, Instagram, etc. makes you visible to people browsing hashtags. If you sell auto parts you should have #automotive in your Twitter description so that when people searching for auto parts or advice browse that hashtag they see you. It's that simple, just having a visible presence on these platforms and posting your products and basic information should be a huge priority for any small business.
4. Social Media Advertising
Sometimes just having a visible presence on social media is not enough. Facebook is one of those cases. Facebook is the largest social media network and arguably also offers the best targeting. Unlike Twitter where people can explore by hashtags and find you organically Facebook is crowded with paying advertisers. So your posts on Facebook are really only going to be visible to people who have liked your page and opted into your feed. Paid advertising on Facebook is the only way to make yourself visible in the newsfeed of followers you don't already have. The good part is Facebook doesn't have any minimums and you can spend very little with excellent results. If you are a small local business you aren't going to need to spend thousands of dollars to target your town of 50,000 people. On the other hand if you're a national Thai Food chain Facebook gives you the option to target people who are interested in Thai Food in all 50 states.
3. Customer Reviews
This is pretty self explanatory, you need reviews. Yelp was a game changer when they became the first social platform focused mostly on customer reviews. It is now a part of the buying process, people want to see that others have had a positive experience with your business. Customer reviews can be the deciding factor in a lot of cases on whether or not you get a customer. We encourage YOU to encourage YOUR CUSTOMERS to write reviews of your business on any and all social platforms. Yelp, Google and Facebook all give you the ability to allow customers to review you. Facebook even has a 5 star system similar to Yelp. The more positive reviews you have the more business you will win. Count on it.
2. Video Content
To be more accurate – short form video content. As you've noticed our trend is social and mobile. Consider that everyone is now scrolling through feeds on their phone. You want to stand out in that feed if you are going to win business. Video content is what will do that. How you create your content really depends on you… maybe it's something you can do organically on your own. Maybe it's something you need to hire a team for. Maybe you need an agency… whatever the case do it. If you're a mechanic and you can film little snippets of yourself fixing and testing cars as they come through… that is huge. People love to see first hand how you operate, it gives them comfort. Couple that video with a link to "Book an Oil Change" targeted to people in the zip codes surrounding your shop and you've got a winning digital marketing strategy.
1. A Mobile First Website and Mindset
The numbers are in and it's not looking good for desktops. That's not to say desktops are going to become extinct, they've just been trumped in overall usage by their smaller more portable cousin – the smart phone (thank you Steve Jobs). Mobile usage officially outpaced desktops back in 2016 (link) and the trajectory isn't changing. With that in mind your focus should be on mobile first. The mobile version of your site is more important than the desktop version. Most people won't ever see the desktop version.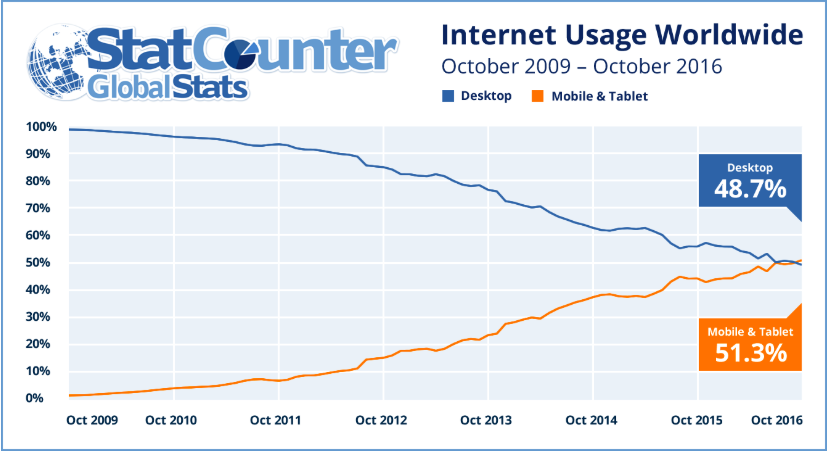 So these are the 5 pillars of digital marketing for small business. If you have all of these up and running you are no doubt seeing the results. If you are not, get to work! These are very basic things you can do without an agency, but if you do need the help don't hesitate to contact us!