By
Apex Digital Media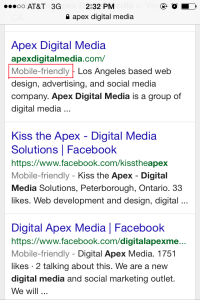 Today the Apex team was enjoying Pizza at an undisclosed location in Agoura Hills.  As we were waiting for them to heat up our slices we all began to flip through our phones for some temporary amusement. One of our brighter team members decided to check how we are currently ranking in organic search for our business name… "Apex Digital Media."
We were shocked and surprised to notice a small but new demarcation on Google's Mobile SERP next to our listing that read "Mobile-Friendly." It was something we'd never seen before and a quick search produced the recent announcement that indeed… Google has updated mobile SERP's to let users know whether or not a site is mobile friendly. Fear not webmasters, they have clearly defined the criteria for what will earn you this tag. It is as follows:
GOOGLE: This change will be rolling out globally over the next few weeks. A page is eligible for the "mobile-friendly" label if it meets the following criteria as detected by Googlebot:

Avoids software that is not common on mobile devices, like Flash
Uses text that is readable without zooming
Sizes content to the screen so users don't have to scroll horizontally or zoom
Places links far enough apart so that the correct one can be easily tapped
This also fits with Google's core mission which is providing relevant results and a great user experience. They even created a test site to help you with mobile optimization.