Social Media has grown into a force to be reckoned with. To give you an idea as to how fast things are moving – in 1997 the Internet reached 50 million users. Facebook on its own gained over 100 million users from January 2009 – January 2010. So with numbers like that, there is obviously a large audience there to go after.
Social Media profiles are not only another place to showcase your business and interact with your customers, they also work as directory listings that help to get your business more visibility in organic search.
Facebook is the top of the food chain for social networks but as technology evolves a lot of other notable platforms are popping up with a wealth of potential for business opportunities. Instagram, Pinterest and SnapChat are all places that are currently offering advertising of some sort but are relatively newer platforms than the mainstays such as Facebook & Twitter (to be clear, Facebook now owns Instagram)
Developing a Social Media Strategy
First and foremost you want to figure out what platforms are most likely to have your prospects. A platform like Instagram is absolutely perfect for photographers, but Twitter might be a more appropriate place for finding new customers if you run a Software business. This isn't to say you shouldn't have profiles on both – just that depending on the type of business you run you will want to spend more of your time on particular platforms.
The best way to figure this out is by asking yourself a few simple questions about your business and the nature of it.
Why are you doing this? Decide what the primary goal of your social networking strategy is. Are you trying to network better? Showcase new products? Drive sign-ups for a mailing list? Having clear goals is important when formulating a strategy.
Who is your target audience? If you're a mechanic trying to generate business on Pinterest might not be the best option. That's not to say it won't develop anything for you but a platform like Facebook is much more effective for an automotive business as you can target people in your local area who may have an interest in automotive.
Which platforms are the most important for my business? If you have a staff that can man your profiles or you can afford to hire an agency like Apex Digital Media to manage social media strategy for you, you're in luck. If not, you should probably pick a couple of platforms that best suit you, or you could spread yourself thin. Going days without any visible activity is bad for growth and reflects poorly among followers.
Security. What type of trust level do you have established at your company? Will all of your employees have access to your social media accounts? Remember that a small mistake on social can be extremely detrimental to business. If one of your employees posts something offensive it could end up snowballing into a PR nightmare. Make sure you take security of your accounts seriously.
Finally, the tone and voice of your social media presence is important. Does your company already have a public representative that usually handles speeches, press, etc.? It's important to have a voice that represents your business well and does not seem robotic or contrived. Remember, "People buy from other people, not from other companies"
Don't Be Too "Salesy" on Social Media
Social Media Marketing isn't as much about directly selling your product as it is about engaging prospective customers and winning their trust. The goal of a community-based social media platforms is to provide a platform for an open, honest conversation about whatever the subject at hand is.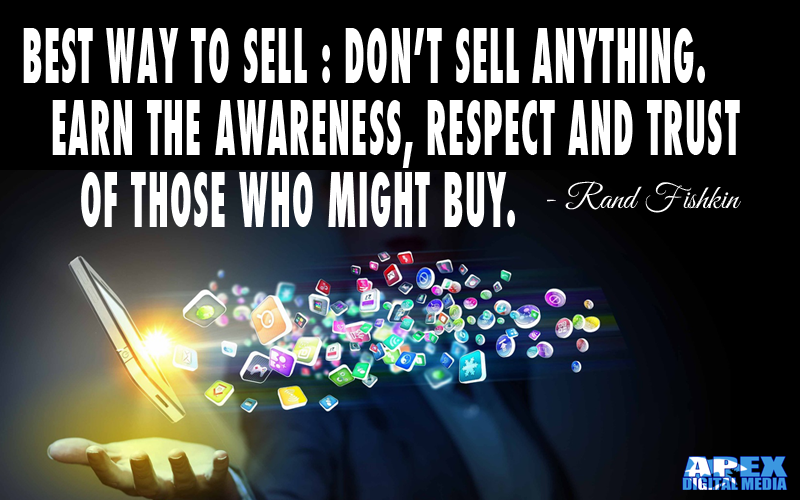 If you look closely at the brands with the most successful profiles and communities you will see that they are the ones who interact with users most often and post content directly related to their brand. Facebook's Fan Page is a great example of how you should market your company through social media platforms. It acts as an upgraded user profile for brands, companies, and organizations to be as involved as the users, and has plenty of tools to enable informed decisions. As users become 'fans' of your page, all of your activity appears in their News Feed each time they log on. There's also a feature called the "Insights tool", which allows you to analyze page views, the demographics of your fans, and the number of people who view (or stop viewing) your News Feed posts. Facebook has continued to add new and improved features for businesses to make better use of their user data.
If you simply open up a profile and begin spamming your users with coupons and deals for your product or service you won't go very far. Providing real value to your users in the form of expertise and news about your industry and brand is how you win.
This is a brief primer on social media strategy but if you need additional assistance or expertise don't hesitate to reach out to us directly!
(source: http://www.inc.com/guides/using-social-networking-sites.html)