Instagram is one of the fastest growing social media platforms online and one that can be extremely effective in drawing a great audience for your brand or business. Effective social media marketing is really about finding and engaging a relevant audience where they already exist and with over 300 million users (2), Instagram has a fairly large user base to draw from. Maintaining a business presence on Instagram provides for a lot of opportunity since it is a visual platform. Brands who are great with visuals or businesses who sell visually attractive products are instantly at an advantage in this environment. A recent example of great branding at work would be the "Imagine Ice Cream" ad that Ben & Jerry's ran (pictured below). It's a simple, clever image that ended up going viral. (4)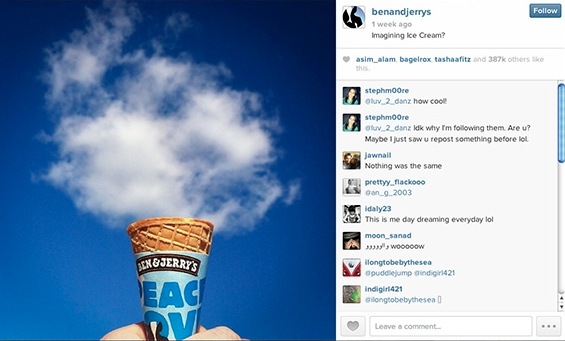 Even technology companies like HootSuite (an all in one social management platform for those who don't know) can see the writing on the wall. They recently updated their platform to include a more robust suite of Instagram management tools. As Jimmy Duvall, VP of product was recently quoted in AdExchanger  – "One of the things we're definitely seeing is this massive shift toward imagery and video, which is why we prioritized Instagram."(1) Salesforce also recently announced the addition of several new analytics and advertising features to their platform designed specifically for Instagram. So as you can see there is plenty of real world evidence that Instagram has become a serious tool for digital and social media marketing.
What to Expect from Social Media Marketing on Instagram
The young, Facebook owned platform recently up it's advertising API. What does this mean for people who aren't coders? It means that the ability to advertise on the platform is going to be incredibly seamless and a lot of existing digital and social media marketing companies are going to be offering that service as a result. So as a brand or a business paid advertising will definitely an option and the market will be competitive.
Let's say you're a young business who doesn't have the advertising budget to spend big on Instagram advertising, that's still no reason to neglect building a presence on the platform. Unlike Pinterest (which we will cover in more depth later) Instagram does not allow you to link your images back to your website. For this reason a lot of companies are confused as to what value the platform offers them and it's simple… visual advertising, branding, awareness, customer loyalty.
I like to use the example of billboards – while there are now digitally rotating billboards, they haven't received much of an upgrade beyond that. Billboards still exist because they are still effective. Think of your business Instagram account as a blank digital billboard that you can fill with branded imagery to create interest and awareness about your business. It's that simple. The Ben & Jerry's ad pictured above doesn't have a "BUY NOW" link that allows users to click through instantly purchase ice cream, but it's an incredibly effective none the less.
There is a trap that we as digital marketers get ourselves into due to the way the industry was built, around analytics and instant gratification. As a business starting out on Instagram you're probably not going to instantly get millions of new visitors to your website clicking over from Instagram. However, you can and should build a visible brand presence there and that will eventually begin to result in new business over time. So think of Instagram as more of a long-term brand and audience building tool rather than a source of  instant lead gen like most other social platforms. You'll never really know how many people saw your billboard or how it affected them but it's a safe bet that if it's big, visible and there for a long period of time people are going to notice.

Sources