The Grammys have become deeply intertwined with technology over the past couple years. Social Media has created an environment where viewers can interact live with their favorite artists and other fans during the event. There are always a breaking news items that happen at these events and overall it just makes the event more fun and interactive. It becomes an experience that is more shared by fans than viewed. With that let's go through some of the night's winners on social media both artists and brands.
Artist Engagement During the Grammys
According to Engagement Labs 2016 rankings of grammy-nominated artists, Wiz Khalifa was the big winner on Facebook. Scoring the most likes and new fans. The Weeknd was number one on Twitter due to his use of the official Grammy's Twitter account to show gratitude to fans new and old, thanking everyone for their support. Best New Artist nominee Tori Kelly also scored high on Twitter. On Instagram Charlie Puth dominated with the highest score according to them based on a lot of shares and likes of his Instagram photos. Taylor Swift gained the most new followers on Twitter and during the show frequently utilized her social media channels to post her reactions to winning awards.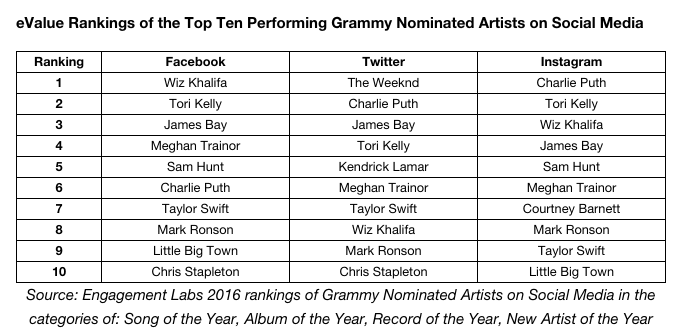 Brand Engagement During the Grammys
In addition to artists there were a lot of brand engagement opportunities. People magazine ranked first on Facebook they having the most active user base of all sponsors. The magaizne posted a lot leading up to the show and also had frequent live updates on their social channels. Hilton hotels had the highest follower growth of the night, continually posting live images of artists on the red carpet with the Hilton logo / watermark. Hyundai had the best brand score on Twitter mainly from people responding to and retweeting them. Gucci used Twitter to post high fashion images of their brand from the red carpet. One particularly noticable shot of Florence Welch (Florence and the Machine) wearing one of their dresses.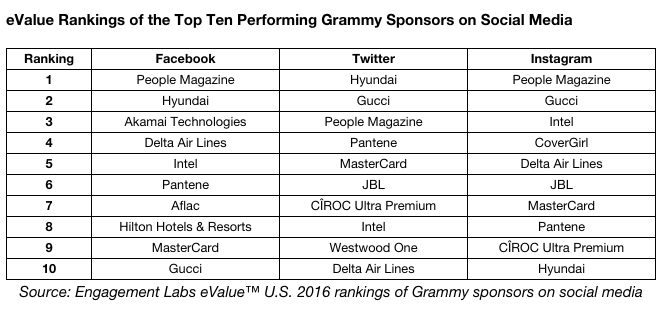 These days brand integration with music is much more common place because of the way that the music industry works and artist can't really sell records anymore so these days sponsorship money and these types of social media integrations are where a lot of artists make their money
(source: http://www.benzinga.com/pressreleases/16/02/m6299772/the-social-media-grammy-goes-to-artists-the-weeknd-and-taylor-swift-and)
(source: http://www.adweek.com/news/television/these-brands-and-artists-won-grammys-social-media-169666)