AdWords PPC Management Tip #7 – Google Shopping Feed
Apex is a Los Angeles, CA based digital agency heavily involved in adwords ppc management. For this reason we learn a lot in real time, as we execute campaigns daily for clients. This is why part 7 in our series is going to discuss Google shopping feeds and Product Listing Ads. If you've ever searched for something very specific in Google you've probably seen them, they look like this: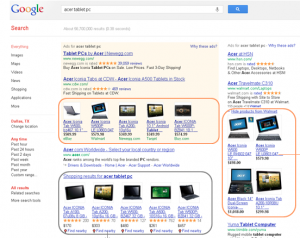 We recently had a client (who will for contractual reasons remain unnamed) who had an unsuccessful PPC campaign after 30 days. It wasn't completely our fault… and to be honest, it was a lot more successful than most AdWords campaigns are in their first month – despite the issues. All that aside, we also learned 2 very valuable lessons from the experience.
Make sure that no one internally is altering the site's URL's during an AdWord's campaign
For ANY brand selling items online always set up a Google Merchant account and run product listing ads. The CPC here is much lower and the conversion rates are much higher. They are perfect for e-commerce driven businesses….
Never done this before? You're in luck. The next section will explain in 3 easy steps how to get your product feed up and running, and converting sales for you or your clients.
Before we dive into this – if you still need help you can go directly to Google's help page for this topic, which is much more extensive than this post: https://support.google.com/adwords/answer/3455481?hl=en
Step 1 – Create a Google Merchant Account
That is if you don't have one yet. You will also need an AdWords account to associate this with – but we're kind of assuming you already have that. For the merchant account go here: http://merchants.google.com Once you have this set up you will need to follow the instructions to associate it with your Google AdWords account.
Step 2 – Create & Upload a Product feed
The first thing to consider here is this – Google Shopping Policies. Make sure you read these policies and abide by them. If you've ever worked with Google you know that they value the user experience and seek to serve the most relevant search results to their users. So as you're structuring your product feed – keep this in mind. DO NOT try to keyword spam or use shady tactics in your feed or you will be banned from Google Shopping altogether.
File Formats – The only file formats you're going to be able to use are XML and .txt. If you're a programmer who can code for an API you shouldn't be reading this anyway! Google recommends using .txt if you have minimal technical expertise so keep that in mind.
Basic Product Information – There are tags for basic product information:
id [id] – An identifier of the item
title [title] – Title of the item
description [description] – Description of the item
google product category [google_product_category] – Google's category of the item
product type [product_type] – Your category of the item
link [link] – URL directly linking to your item's page on your website
mobile link [mobile_link] – Mobile Landing Page URLs
image link [image_link] – URL of an image of the item
additional image link [additional_image_link] – Additional URLs of images of the item
condition [condition] – Condition or state of the item
Availability & Price – This is to manage price and inventory information for your store. You can find advice on providing the most up-to-date or fresh data here.
availability [availability] – Availability status of the item
availability date [availability_date] – The day a pre-ordered product becomes available for delivery
price [price] – Price of the item
sale price [sale_price] – Advertised sale price of the item
sale price effective date [sale_price_effective_date] – Date range during which the item is on sale
Your feed will need to contain the REQUIRED attributes or it will not serve in Google. You can make sure you set up everything correctly using this reference here.
Step 3 – Create Product Listing Ads in AdWords
You're in the home stretch. The toughest part of this is setting up and loading your product feed. Once you have that implemented and working correctly the rest is easy.
Sign in to your AdWords account at https://adwords.google.com.
Click the Campaigns tab. Then, click + Campaign and select Shopping.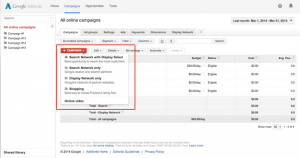 If you need additional help view the full Google walkthrough here.
To learn more about how Apex Digital Media can help your business with AdWords PPC Management Click Here.