AdSense Ad Placement Tips
Having trouble deciding the best AdSense ad placement strategy?  Does your AdSense  scorecard look like this?

We talk to a lot of people that can't strike the right balance between aesthetic integrity and ad placement. We've had many customers come to us wanting to optimize their AdSense yield, yet are unwilling to compromise on ad placement strategies.  This article highlights a few AdSense Ad Placement Tips based on actual client situations, our own experiences, and references from Google AdSense's support pages. This article is intended for a beginner to intermediate AdSense user audience.
First and foremost, it is imperative you abide by Google AdSense's program policy. If you know anything about Google, their slogan is "Don't be evil",  so you can expect they are very serious about their rules of engagement.  Abiding by AdSense's rules will not only help you maximize your revenue yield but keep your account in good standing.  You can't make money if your account is suspended or Google claws back your revenue.
Secondly, don't be afraid to put ads on your site.  I come across a lot of clients that have great content and social followings but are afraid to destroy their "brand" or "aesthetics"  because of the types of ads displayed to their users.  If you want to make money with AdSense, you have to submit to this and become comfortable with the notion advertisers will pay you for the eyeballs on your site.  In my opinion, users have become accustom to seeing these ads over the years. Younger internet surfers don't even know a universe without display ads. Users don't stop going to msn.com or tmz.com because there are a few ads on the site. I firmly believe in keeping your main website  or local business' site ad-free .  But quite honestly, if you operate a blog; that's what they're for, syndicating and monetizing content.  If users are leaving  your site, it's not because of a few ads. It's because your content is not engaging enough or your site has a poor user experience or both.
We also have customers requesting to heavily restrict or block ad categories. in AdSense. Honestly, these days ads are so highly targeted based on a user's search pattern that it will hurt you to manipulate or augment types of ads displayed via AdSense.  Keep in mind, this is a part of maximizing revenue yield.  Say for instance, you block the general apparel category. If a user was recently on J.C. Penny and Macy's sites; then you also just blocked the chance for their ads to display to that "pre-qualified user",  which will in my opinion lowers the potential for a banner click through if a "less" relevant ad creative is displayed. Ultimately, this affects your revenue yield as AdSense does factor in banner CTR when calculating payout.
Next, it's imperative to think like a user! Google is all about user experience, so if you provide that typically you' ll be in good shape. Also, put yourself in a consumers shoes to better understand how to garner better stats.  What ads have you clicked on recently? What compelled you to do so? Also, think of sites you've visited with poor user experience and header stuffed ads as examples of what not to do.  Google suggests implementing your AdSesne ads placements in a highly visible manner that does not get in the user's way. Google also recommends placing your ads along slide your best content using both text and display ad formats for optimal fill and RPM (Revenue per thousand impressions).
Google's Best Practices for Ad Placement. 2014. Retrieved from [Google Support].  ‹https://support.google.com/adsense/answer/1282097?hl=en›.
Here's a recent example that I came across that stuffed 3 skyscraper ads above the fold.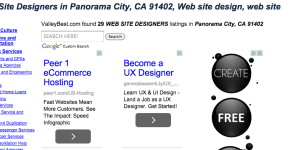 This example was even more frustrating to me as a user because it is a local directory listing site on which my local web design company is featured. These ads are distracting potential consumers from seeing my listing and calling me.
Don't get me wrong, I'm 100% for having a clean 728×90 leaderboard or a larger home page banner ad.  Sometimes, I even get frustrated when a client refuses to take advantage of this valuable online real estate due to aesthetics.  But theres a right way and a wrong way to accomplish this  (Also, pay attention mobile view  – Click here more on responsive header ad placement).
At the end of the day, ad placement is 100% up to you. But so is revenue maximization… if that's your end goal. Your aesthetic preferences may be costing you money each time a user flips to next page of your site. On the other hand, don't be greedy and stuff ads all over the place.
Honestly, I would go to your favorite news and entertainment websites and pay close attention to their monetization and ad placement tactics. Observe how they balance aesthetics, user experience, and ad placements for best revenue yield. They've spent years honing these strategies and they are typically up-to-date on best practices as they have teams devoted to these efforts. Please note however, not all sites use AdSense to monetize their content so there will be slight variations across platforms but the approach should remain relatively consistent.
Feel free to respectfully add to, comment on , or share this post.
Subscribe To Our Newsletter For More Info Like This:
[su_button url="http://apexdigitalmedia.us9.list-manage.com/subscribe?u=e27e5551362257eeedc4efa57&id=e386a0742d" style="glass" size="8″] Subscribe Now[/su_button]