We talk a lot about different types of SEO on the blog. More recently, local SEO has become the most important factor for small businesses. The reason for this is simple, Google is the new yellow pages. Local search is how people find your business. So it would only make sense that local SEO be an important item on a marketer's check list.
Since Apex Digital Media is an SEO firm it would be easy for us to talk about one of our many client projects. However, we thought it would be best to focus on our own website and optimization. After all, if we're really good at what we do – we should rank well for keywords we are targeting. So let's take a look at the elements of effective local SEO at our location in – local SEO Beverly Hills Edition!
Major Ranking Factors in Local SEO
To start let's look at a breakdown of local SEO ranking factors from the good people at Moz.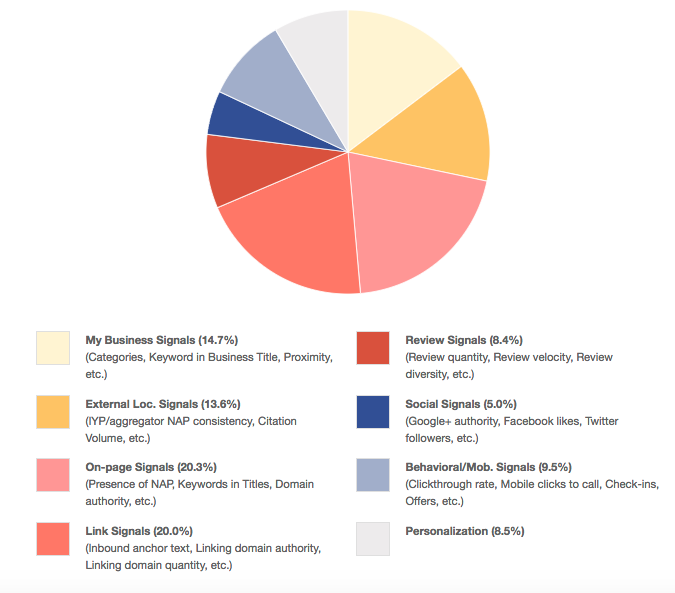 As you can see the biggest factors are "on page signals" – so keyword and technical optimization on your site itself. Also – "Link Signals" which is basically back links to your site from other sources.
Type in Local SEO Beverly Hills – What Do YOU Get?
If I type in a search for "local seo beverly hills" my Google currently pulls up the following results: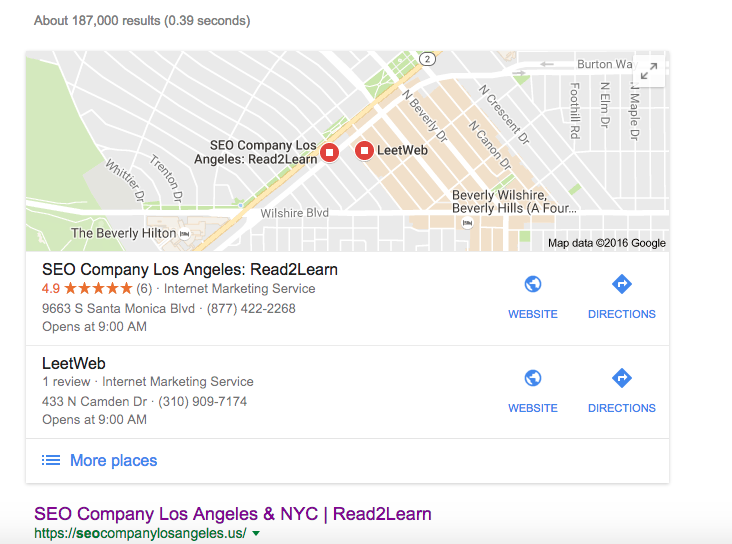 No visible sign of us there right now. Let's look at why that is and what the competition is doing to be so visible.
Our Local SEO is Set for Los Angeles – Not Beverly Hills
A quick glance at the Apex website's title tags will show that we're titled for Los Angels, not Beverly Hills.

Changing our title tags to "Apex Digital Media | Beverly Hills, CA" would help us ascend higher in the rankings for the local search term of beverly hills. However, we are currently targeting Los Angeles as a whole, since it's a larger market.
We Don't Have "local seo beverly hills" in our URL
A quick scroll down the page produces a result that is curious… basically another firm who is copying our name. "Apex Web Firm." This site is likely ranking because they have the keyword "local seo beverly hills" in their domain. Something we will have once this blog post is live.
One thing this firm is doing right is including the keyword in the domain. They are a bit further down the page (and are obviously riding our coattails) but I'm impressed with their knowledge and ability to rank so quickly.

Here's How Important Having Keywords in Your URL Can Be…
One company "Local Positions" is ranking in the 3rd or 4th slot for "local seo beverly hills" and they aren't even located in beverly hills. A quick search or two turns up quite a bit of interesting information about this company.
First, they are located at: 30401 Agoura Road, Suite 201 Agoura Hills, California, 91301 – which is about 30 miles from Beverly Hills. They have /local-seo-beverly-hills-ca in their domain and obviously know how to create backlinks that give them lift.

Second, a deeper dig will reveal that "Local Positions" is actually – National Positions, a notoriously shady company who was called out for low brow tactics by Rand Fishkin a few years back. One valuable lesson we can learn from them is the importance of the keywords in the domain name. This is obviously a very important signal for local SEO because it's helping to elevate them despite their lack of any visible location in Beverly Hills.
Local SEO is Important
One thing is certain, all of these factors are an important part of any business' digital marketing strategy. If you aren't visible in local search people can't find you. The less people that can find you the less customers you have…  If you don't have the time or expertise to perform local SEO on your own, consider hiring an agency like Apex Digital Media to do the heavy lifting for you.